2-in-1 Hat Style
Featuring a flat crown look, stitching on the brim and sided button for a different style for any occasions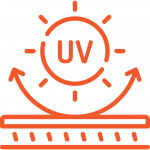 Breathable & Sun-protective
With a breathable material and wider brim, this hat is ideal for protecting your head, neck, ears, and face
Great Fit & Feel
Made with an adjustable drawstring that rests at the chin, that allows the right fit & feel for different head sizes
Premium Quality Guaranteed
Your experience is important to us, which is why we go the extra mile to ensure that the quality that we provide is top of the class. Made with Nylon,  lightweight components that can be use instantly.
The brim extends low and helps block out the sun, make this bucket hat is  perfect for outdoor wear. We did our homework, with extras, just for you.
Would You Invest In Yourself?
"There's no denying that a great life begins with a great experience. Stylish, ease of use, and helps block out the sun. There is no other perfection like Tahan Adventure Bucket Hat, perfect wear for outdoor!"
Heads Up & Shine Like  A Diamond
What creates a look of ease more quickly than a bucket hat? If you are going on an adventure is in your bucket list, then this Tahan Adventure Bucket Hat might help you fulfill it as you capture the summer look.
Perfect for a day at the beach, we'd say, though it's also perfect for farmers market mornings and park afternoons.  If you're out fishing, mountaineering, camping or even heading out to your local market for some groceries, the TAHAN Adventure Bucket Hat's got you covered when the heat kicks in.
The Ups & Lows – Both Fit & Feel
The brim extends low and helps block out the sun. It ensures your neck, ears and face stay safe under the sun when you're out in the heat, all while staying comfy in both fit and feel. 
Plus the breathable mesh lining and interior sweatband help balance the heat even more. Toss this on and get out there.
Take Me Out – I Can Protect You
Drawing inspiration from classic hiking styles, with a wider brim and a lifestyle inspiration for a relaxed aesthetic, this Adventure Bucket Hat will top off looks with an air of chic practicality. Sweat-wicking power and sun-protective team up to help keep your head dry and cool.
Featuring like a flat crown, stitching on the brim and an adjustable drawstring fastening that rests at the chin. Style with tonal outerwear to complete the look.
People agree that this Tahan Adventure Bucket Hat give them the feel and the looks!
Here's Why You Should Choose Our Tent
With an adjustable drawstring fastening that rests at the chin and made of Nylon and breathable material, it is easily foldable to the desired style. This hat's wider brim makes it a great sun-protective hat to wear anywhere!
While this bucket has an adjustable drawstring closure, it should fit adults in the L to XL size range perfectly.
Measurement: 8CM (Brim Width), 10CM (Height/Depth), 58-60CM (Head Circumference).
Taking care of your Tahan Adventure Bucket Hat is super easy. Brush the dirt away with a soft brush, or if it needs to be washed, splash or spray some water on it and wipe it away.
Please refrain from rubbing it with a hard brush. It might spoil the material of the hat. Recommended to use a soft sponge or a little soft brush (not toilet tissues) to rub the dirty off.