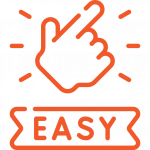 Fast & Easy To Set Up
The quick pop-up design of the TAHAN BaseCamp 4 tent makes it convenient and easy to set up, even for those who are new to camping or have limited experience with tent assembly
Excellent Ventilation
The tent has excellent ventilation, with mesh windows and vents that allow for airflow and help to keep the interior of the tent cool and comfortable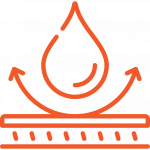 Water-Resistant
The TAHAN BaseCamp 4 tent is water-resistant, with 3000mm rainproof level and comes with rainfly to help keep you dry in wet weather
Quick Pop-Up Design Than Normal Tent
The TAHAN BaseCamp 4 tent features a quick pop-up design, which makes it easy and convenient to set up in a matter of minutes. This is especially useful for those who are new to camping or have limited experience with tent assembly.
The quick pop-up design of the TAHAN BaseCamp 4 tent involves a simple and intuitive system of poles and connectors that allow the tent to be quickly and easily assembled. The tent can be set up in a single motion, with no need for complicated instructions or specialized tools.
Would You Invest In Yourself?
"There's no denying that a great life begins with a great experience. When we doing well in outdoor activities, we're happier and healthier. Your day is saved by the TAHAN Microfiber Quick Dry Towel's incredibly absorbent material!."
Super Large Space Can Fit 4 People
The TAHAN BaseCamp 4 tent is designed to fit up to 4 people comfortably, making it a great choice for small families or groups of friends who want to enjoy the outdoors together. 
The TAHAN BaseCamp 4 tent is also designed with a number of convenient features to make your outdoor experience more comfortable, such as excellent ventilation, a waterproof rainfly, and a quick pop-up design that allows for easy assembly. In addition to these features, the TAHAN BaseCamp 4 tent is also water-resistant, with seam-sealed construction to help keep you dry in wet weather.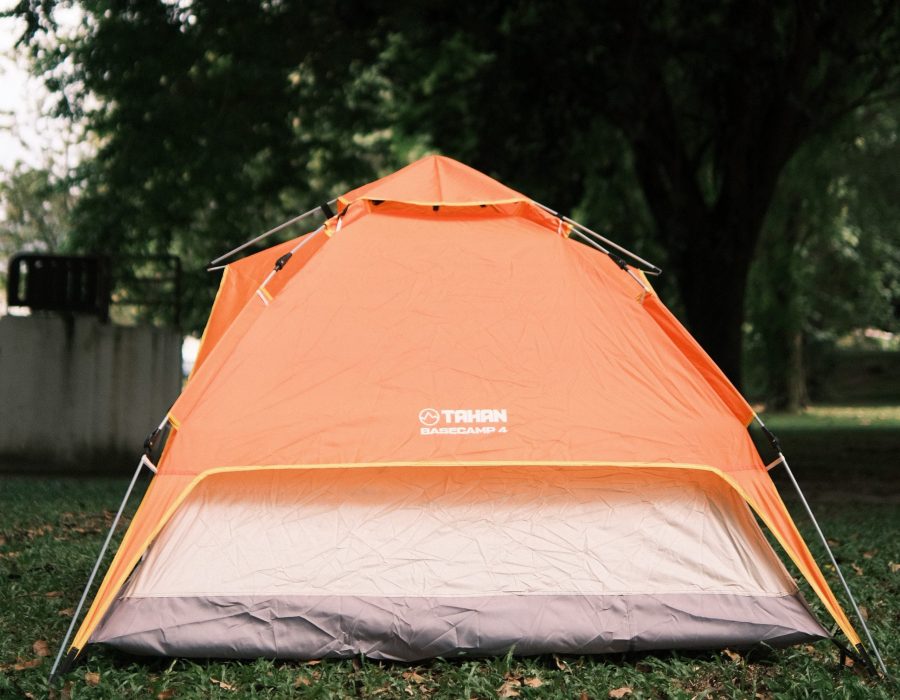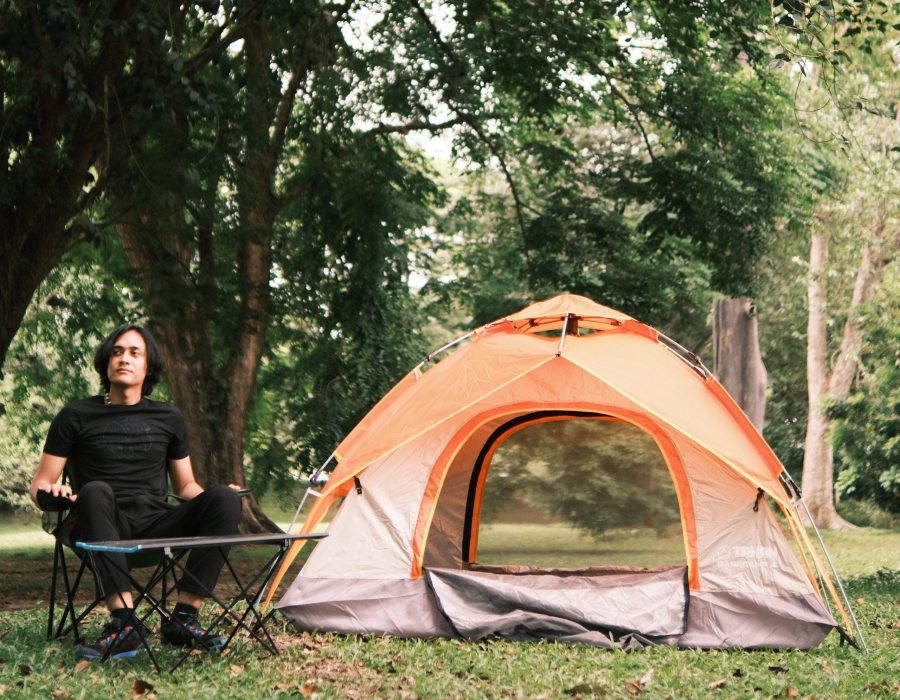 High Quality Material For Your Comfortable
The TAHAN BaseCamp 4 tent is made from high quality Coated Silver Polyester Taffeta, which help to ensure that it is durable, reliable, and long-lasting. The tent's pole is made from fiberglass rod, which is lightweight and strong, and is able to withstand the wind and rain. The tent's body is made from a high quality polyester fabric, which is resistant to water and  able to withstand the wear and tear of outdoor use. The tent's rainfly is also made from a water-resistant and durable material, which helps to keep you dry in wet weather.
In addition to these high quality materials, the TAHAN BaseCamp 4 tent is also designed with a number of features that help to ensure that it is comfortable and convenient to use. These features include excellent ventilation, a quick pop-up design, and a spacious interior that is able to accommodate up to 4 people comfortably.
People agree that TAHAN BaseCamp 4 Tent helps them do camping better!
Here's Why You Should Choose Our Tent
A TAHAN BaseCamp 4 tent made of Coated Silver Polyester Taffeta with 3000mm rainproof level. High quality material with water-resistant and durable tent for quick pop-up design.
Size: 195CM x 165CM x 135CM
Tent camping is a classic activity. There is something incredibly satisfying about carrying your shelter to your campsite, pitching it in the perfect spot and falling asleep to the gentle soundtrack of nature. A tent keeps you dry through rainstorms and sheltered from the wind, and that feeling of unzipping the front flap and taking in the morning air after a good night's sleep is an unparalleled pleasure.
A good tent can last a long time, and knowing how to properly take care of it is the key to getting a long lifespan out of it. We provide this tips on how's to take care your tent to ensure it's around for many camping trips to come.
How to clean the tent-

Can you wash a tent? Well, the first and most important rule is to never put your tent inside a washing machine or dryer. Even on their gentlest cycles, these devices can stretch, overheat and damage tents. All washing should be done by hand.

Start by filling a large bucket or sink with warm water and soap that is not detergent. Also avoid soaps that have fragrances, as these will attract insects, and make sure the soap you choose will not break down the waterproof coating. Use a non-abrasive sponge or cloth to scrub the tent gently, focusing on soiled areas but taking care not to overwork waterproof areas like the tent's floor and seams.

When you have cleaned the problem areas, take the entire tent and immerse it in the bath of soapy, warm water. Wash and rinse it, then hang it up to dry thoroughly.

How to clean the tent with mold and mildew – 

Inevitably, knowing how to remove mold from a tent will come in handy. Sometimes, weather does not cooperate and you have no choice but to pack a tent up when it's still wet, leading to the discovery of mold or mildew patches upon unpacking.

To prepare the tent for removing mold and mildew, set it up outside or on a dry floor in the garage. It is important to dry the tent before the process begins. Sunshine can also help kill the mold.

Prepare five quarts of hot water and add a quart of vinegar and half a teaspoon of dish soap. Use this mixture to gently rub down all affected parts of the tent. If there is a particularly tough stain, use a brush with soft bristles to scrub it out. After the tent has dried out, this is also a good opportunity to weatherproof it.

How to store the tent – It comes as a surprise to most people that the best way to store sleeping bags is to stuff them haphazardly into their sacks. Though carefully rolling it up can lead to uneven fluff distribution, stuffing it in allows the fluff to get randomly distributed.

A tent, however, does not benefit from getting unevenly stuffed into its sack. After drying it completely out, fold the tent evenly into thirds along its longer axis. Then roll the tent tightly, working out air pockets as you go. This rolling puts roughly equal stress on all of the tent's seams and fabrics.

When you get home from a trip, remove the tent and determine if it needs to dry. Some good indicators are if it feels at all moist or smells musty. When you have given the moisture time to evaporate in a dry room, store the tent in a loose bag. As mentioned earlier, a pillowcase makes a fantastic loose storage bag, since it is spacious and breathable.