Durable Material
Durable materials which hold up well against rough weather conditions and Z-shaped reinforced stitches at the hook which can make the canopy have better resistance to pulling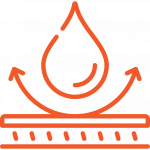 Water-Resistant
A water-resistant camping tarp is essential for protecting your gear and staying dry during wet weather conditions. Look for a tarp made of 210T Polyester, which are highly water-resistant and able to withstand heavy rain.
UV-Ray Protection
UV ray protection material for comfortable camping and protection to skin from the harmful effects of the sun. This tarp made of 210T Polyester materials that offer UV protection, which will help block out harmful rays and keep you and your safe.
Cover Large Square Area
The Tahan Panthera Sunshield is a versatile and effective solution for covering large square areas, providing reliable protection from the sun's harmful rays.
Whether you're setting up a tent, shade structure, or other outdoor space, the Sunshield is designed to cover a wide area, ensuring that you and your gear stay cool and comfortable. The Sunshield is made of durable materials that are resistant to fading and tearing, so you can trust that it will hold up well over time. Its compact design makes it easy to transport and set up, and it comes with a carrying bag for convenient storage. With its large square coverage area and reliable protection from the sun, the Tahan Panthera Sunshield is a must-have for any outdoor enthusiast.
Would You Invest In Yourself?
"There's no denying that a great life begins with a great experience. When we doing well in outdoor activities, we're happier and healthier. Your day is saved by the TAHAN Panthera Sunshield's incredibly excellent material!."
210T Polyester High Quality Material
The Tahan Panthera Sunshield is made of high quality 210T polyester, a durable and reliable material that is resistant to fading and tearing.
This makes it an excellent choice for outdoor use, as it will hold up well against the elements and provide long-lasting protection for your gear. 210T polyester is also water-resistant, which means it will shed rain and other moisture, keeping you and your gear dry even in wet weather conditions. In addition, the Sunshield's 210T polyester is treated with UV protection, which helps to block out harmful rays and keep you and your gear safe from the sun's damaging effects. 
Canopy Magnetic Hook
The Tahan Panthera Sunshield comes with a set of free canopy magnetic hooks, making it easy to attach and secure to any metal surface. These hooks are designed to hold the Sunshield in place, providing reliable support and stability even in windy conditions. The magnets are strong and sturdy, ensuring that the Sunshield stays securely in place and doesn't move or shift while in use.
The hooks are also easy to use, simply attach them to the Sunshield and place them on the metal surface of your choice. Whether you're setting up a tent, shade structure, or other outdoor space, these canopy magnetic hooks make it easy to get the Sunshield up and running in no time. With their convenient and reliable design, these hooks are a great addition to the Tahan Panthera Sunshield.
People agree that TAHAN Panthera SunShield helps them do activities better!
Here's Why You Should Choose Our Tarp
A TAHAN Panthera SunShield made of 210T Polyester (silver coated fabric) with quality stitches. The material also are durable, lightweight, ripstop fabric, tear and puncture resistant.
This tarp fabrics are strong, resilient, wrinkle-resistant, colorcast, crisp, and hold pleats and creases well. But they are also non-absorbent, attract and hold oil stains, may pill when rubbed, and may yellow with age. Polyester is used for clothing and filling garments and coats; some bed linens and towels are also made from polyester blends. Polyester can be safely dry-cleaned or machine-washed.
How to wash the sunshield:
Turn polyester-knit garments inside out before washing to prevent snags.
Machine-wash polyester in warm water, using an all-purpose detergent. Use a chlorine bleach if necessary. Fabric softener will reduce static electricity.
White polyester fabric will look even whiter if you soak it overnight in a mixture of 1/2 cup automatic dishwashing detergent and 1-gallon warm water. Launder as usual, but add 1/2 cup vinegar to the final rinse.
Tumble-dry at a low temperature setting. Do not overly dry polyester; this will cause gradual shrinkage.
Press polyester fabrics at a moderate temperature setting or use steam.